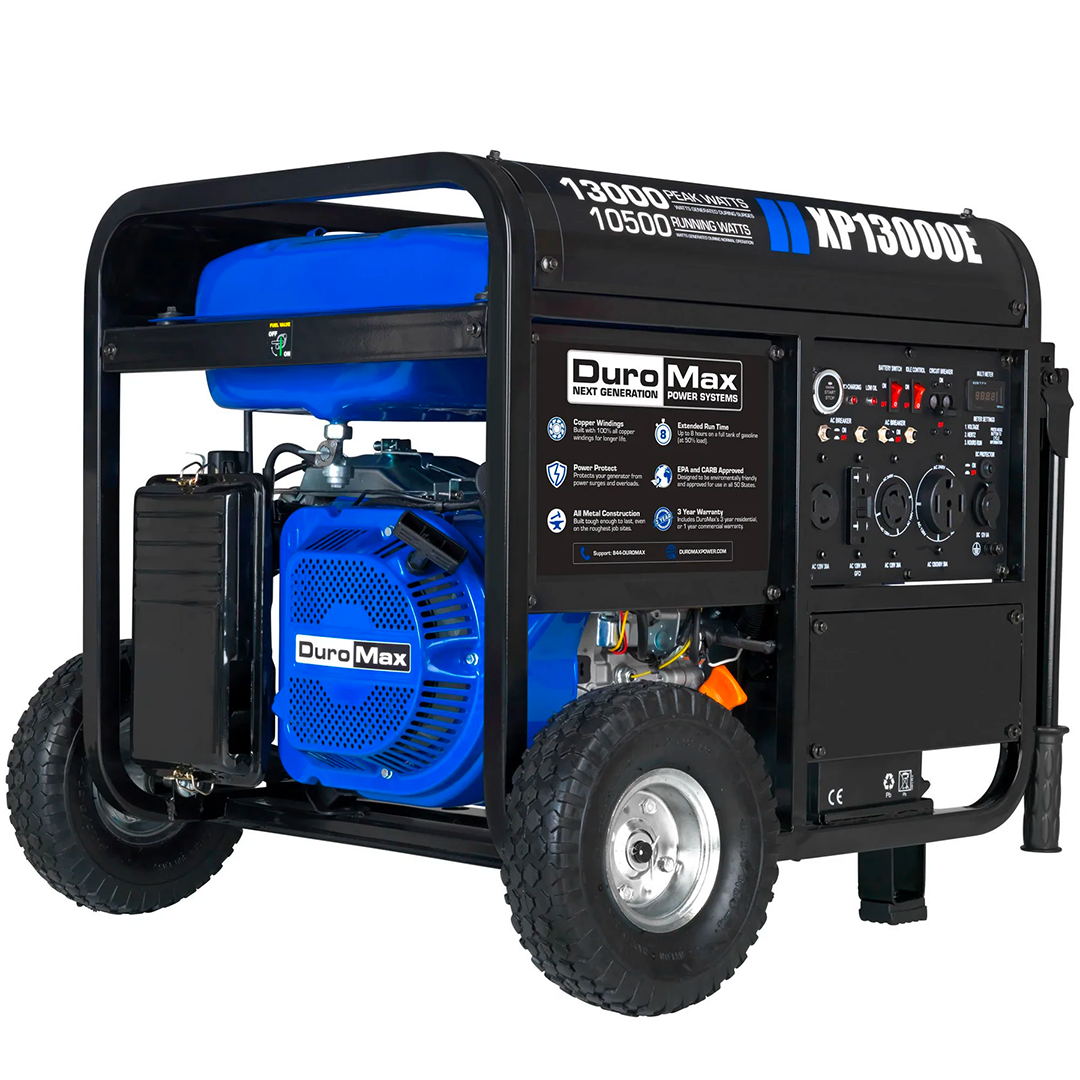 DuroMax XP13000E - 13000 Watt Gas Portable Generator
Save

Liquid error (snippets/product-badge line 32): Computation results in '-Infinity'

%
Adapted for all scenarios, the DuroMax XP13000E is a very capable portable generator. It handles heavy loads like a charm and can power household essentials, including small and large appliances.
With a running power of 10,500 Watts, the DuroMax XP13000E offers a portable power source for all your needs. Whether that means powering your house during a power outage or energizing yourself with a cup of coffee in your on a camp trip, this 13,000-watt portable generator can deliver when it matters most.
Unlike large and hefty home standby units, this portable power unit is equipped with a fully loaded power panel, a spark arrestor noise-reducing muffler, a solid-fill wheel kit, a circuit breaker, idle control, and an automatic voltage regulator. This gas-powered portable package ensures the DuroMax XP13000E generator can kick-start and sustain high amperage power tools.
Key DuroMax XP13000E Features:
Powerful 500cc Engine: The gas-powered 20 HP engine provides serious power for extended power outages and heavy use, making it a reliable, fully operational, and affordable power source.

Fully Loaded Power Panel: The power panel includes multiple outlets for maximum compatibility. Individual breakers are also highlighted on the fully featured power panel, making it safe and easy to turn it on or off in case of power failure.

12+ Hours of Runtime: With efficient heat dissipation technology and 8.3 gallons of fuel capacity, the 13,000-watt portable generator can last for hours on end. Additionally, the DuroMax XP13000E automatically lowers the engine speed, saving fuel, and thus generating power for longer.

Industrial Grade Durability: Forget about rain, scratches, and bumps. This portable generator offers an extended lifetime thanks to full metal construction and sturdy frames. Inside, copper windings provide better heat conduction, making the DuroMax XP13000E a life-saver for even longer.

CARB and EPA Compliant: The gas-powered DuroMax XP13000E is both EPA and CARB-approved, meaning it handles toxic gases efficiently with minimal environmental damage.

Spark Arrestor Noise-Reducing Muffler: Through the use of sound reverberation - also known as echo - this portable generator features a muffler capable of stopping any sparks before emitting a clean exhaust, hence the name.
Specifications:
Gasoline:
Peak Watts: 13,000
Running Watts: 10,500
Peak Amps @120V: 108.3
Running Amps @120V: 87.5
Peak Amps @240V: 54.2
Running Amps @240V: 43.8
Engine:
Amperage: 87.5A/43.8A
Voltage: AC: 120/240V 60 Hz, DC: 12V
Frequency: 60Hz
Horsepower: 20HP
Engine Size: 500cc
Engine Type: 4-Cycle Air-Cooled Spark-Ignition
Engine Speed: 3600RPM
Fuel Type: Gasoline
Fuel Tank Capacity (Gasoline): 8.3 Gallons
Product:
Runtime (Gasoline) at 50% Load: 8.5 Hours
Start Type: Electric/Recoil
Volume Level: 74dB
EPA Certified: Yes
CARB Certified: Yes
CSA Certified: No
Product Dimensions: 29"L x 30" W x 26" H
Product Weight: 236 Lbs
Slick and Efficient.
When it comes to delivering power, the gas-powered 500cc engine packs a punch. With 10,500 watts of running wattage, the XP13000E is one of the most popular models in the DuroMax generator range and helps you accomplish your hardest tasks. Peaking at a staggering 13,000 watts, this portable generator handles just about anything you throw at it. From small appliances, job sites, and campsites, to your entire home, the gas-powered 13,000-watt generator makes light work of it.
Instead of the traditional pressurized oil system, a splash-type oil cooling system takes out the need for an oil filter. Additionally, the idle control takes care of lowering the engine speed to save fuel, prevent overloading, and optimize runtime.
The 500cc of headroom allows the gas-powered Duromax XP13000E to sustain high levels of power with no hiccups. A proper air intake and exhaust make it easier to keep the running wattage as high as possible, with no drawbacks.
Even More Fuel
Featuring an 8.3 gallon fuel tank capacity, this gas-powered Duromax portable generator comes through anytime you need it, for as long as you need it. This unit can sustain up to 18 hours of runtime and up to 8 hours of heavy use.
It's less about the numbers and more about being efficient. Equipped with 100% copper windings, this gas-powered generator does more with less thanks to an improved heat dissipation system.
On top of that, the 13,000-watt generator features a low oil indicator, which automatically shuts off the engine for safety measures. The automatic voltage regulator handles the running wattage to keep the engine running at safe and efficient levels.
Environmental Use
Even though the XP13000E is gas-powered, it is both EPA and CARB approved, meaning that this DuroMax 13,000-watt portable generator follows rigorous guidelines provided by the California Air Resources Board and the Environmental Protection Agency. This makes it ideal for your next camping trip.
Also, thanks to a thoughtful mechanic, this portable generator features a noise reduction feature. The built-in spark arrestor forces the sound frequencies to reverberate, lowering their magnitude each time they bounce off the sides, and thus providing a quieter sound at the end. So, you don't have to worry about annoying other people. Just like you, the Duromax XP13000E has principles.
Reliability And Durability of the DuroMax XP13000E
It's important to protect your investment, and the job is already done for you. A full metal construction protects the portable generator while heavy-duty frames come to reinforce the outer sides, guaranteeing an extended lifetime.
On job sites or while exploring, a solid-fill wheel kit can prove to be extremely convenient. They are filled with foam, meaning they will never run flat, adding a layer of reliability and peace of mind to Duromax generators.
To take the pressure off of you - quite literally, the gas-powered portable generator is equipped with a foldable handle, making pulling this 236lbs unit feel like a walk.
DuroMax's Smart Design
This portable generator is a workhorse powered by a fully loaded power panel. The 13,000-watt gas-powered unit features different outlets for charging external batteries.
To satisfy your heaviest needs, the control panel features an MX2 Power Boost technology, pushing the running amps all the way up to 240V.
Individual breakers are a safe way of turning the portable generator on or off to prevent overloading. Alternatively to the electric start, it also features a pull start in case of battery drain.