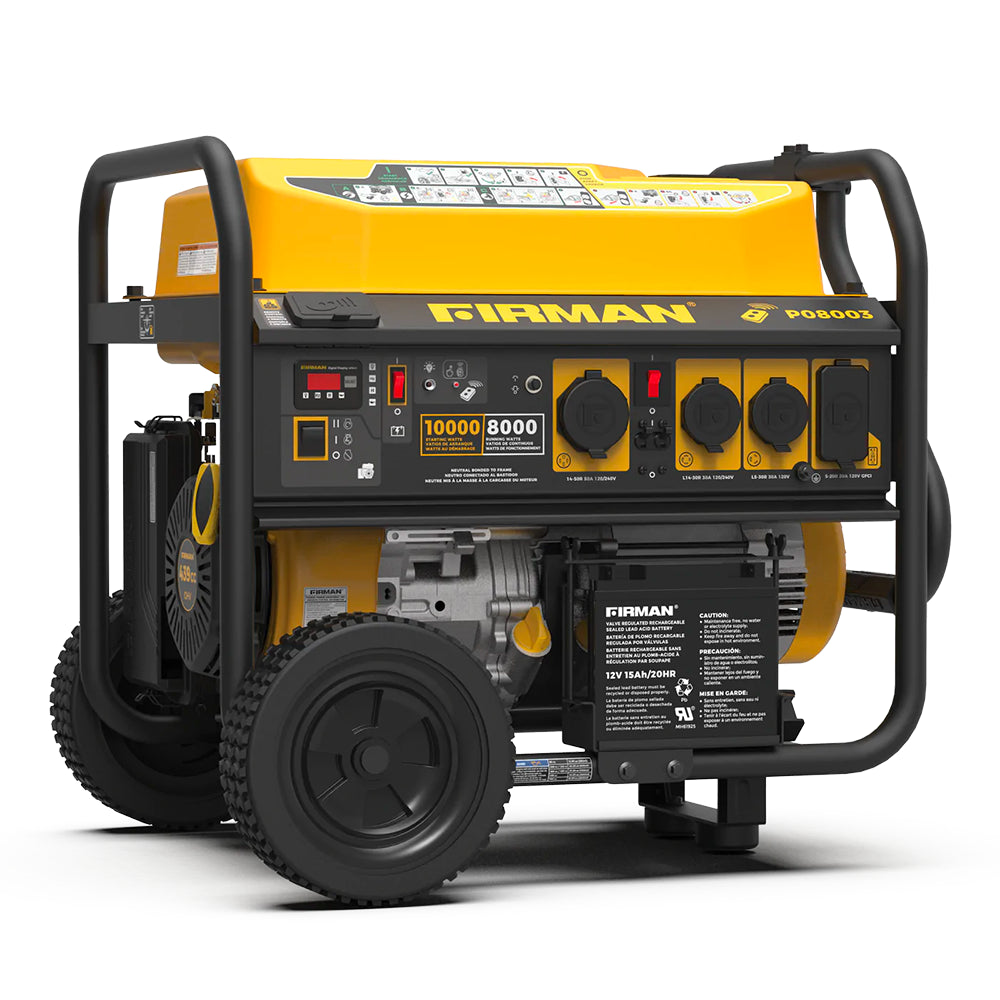 Firman P08003 - 10,000 Watt Gas Portable Generator
Save

Liquid error (snippets/product-badge line 32): Computation results in '-Infinity'

%
Ready to tackle your heaviest tasks and needs, the Firman P08003 boasts 8,000 watts of running power thanks to a robust 439cc engine. From powering high-amperage power tools to household appliances, this unit can handle multiple jobs with no hiccups whatsoever, making it a reliable and trustworthy option at all times.
Coupled with remarkable fuel efficiency, the 10,000-watt portable generator runs for up to 12 hours at half load. On a full 8-gallon tank, the P08003 guarantees hours of runtime to ensure you get things done on the job site and power through heavy weather and power outages.
The Firman P08003 was designed with great care toward ease of use, which is why it is built with a comfortable foldable handle and a flat-free wheel kit. This means that you can easily move the 208 lbs unit despite its weight even through rough terrain.
In order to accommodate different uses and scenarios, this gas portable generator houses several outlets that allow for maximum compatibility. The fully featured power panel includes an L14-30R receptacle that can be used to plug the unit directly into your home breaker box and immediately power the entire household from small and large appliances to lights and commodities.
With a focus on health and safety, the P08003 is both EPA and CARB-approved, meaning its toxic emissions fall far below industry standards, making it a safe and reliable unit that you can use for extended periods of time with peace of mind.
You can find the full range of Firman generators here if you'd like to compare models.
Key Firman P08003 Features:
439cc Engine:

The robust Firman engine is capable of pushing a consistent 8,000 watts of running power at the press of a button to all your heavy-duty power tools and household appliances.

12+ Hours of Runtime:

Designed to get you through times of distress as well as productive workdays, this gas portable generator runs for up to 12 hours at half load to ensure all your needs are met.

Sleek Build:

Undeniably stylish, the P08003 remains sober while keeping the Firman signature accent, making it an elegant piece of decoration when stored.

EPA and CARB-Certified:

Rest assured knowing this 10,000-watt portable generator follows strict environmental guidelines to make sure you're safe while using it.
Specifications:
Gasoline:
Peak Watts: 10,000

Running Watts: 8,000

Peak Amps @120V: 83.3

Running Amps @120V: 66.7

Peak Amps @240V: 41.7

Running Amps @240V: 33.3
Engine:
Amperage: 66.7/33.3A

Voltage: AC: 120/240V 60 Hz

Frequency: 60Hz

Engine Size: 439cc

Engine Type: OHV 4-stroke

Engine Speed: 3600RPM

Fuel Type: Gasoline

Fuel Tank Capacity: 8 Gallons
Outlets:
1x Duplex 120V 20A (5-20R) GFCI

1x 120V 30A (L5-30R)

1x 120V 30A (TT-30R)

1x 120/240V 30A (L14-30R)

1x 120/240V 50A (14-50R)
Product:
Runtime at 50% Load: 12 Hours

Start Type: Electric Start/Recoil/Remote

Volume Level: 74dB

EPA Certified: Yes

CARB Certified: Yes

Product Dimensions: 27.1"L x 27.5" W x 26.8" H

Product Weight: 230 Lbs
Superior Performance
With a robust 439cc Firman engine, which is tuned for performance and has 8,000 watts of running power, you can run household appliances and heavy-duty power tools with ease and confidence.
The Firman P08003 is also equipped with an automatic voltage regulator that handles sudden power surges. These electrical spikes can harm the unit, which is why this feature is great to have should there be an unpredictable surge.
Reliable Autonomy
Using exceptional fuel efficiency, the 10,000-watt portable generator provides power for up to 12 hours. On a full 8-gallon fuel tank, the P08003 allows you to focus on what matters in the moment and get things done.
Equipped with a low oil indicator as well as a low oil shutoff, this powerhouse gives you a heads-up when it needs a refill and automatically shuts down when oil levels are low to prevent the use of contaminated oil that could potentially damage it.
EPA and CARB-Approved
The Firman P08003 follows strict environmental guidelines that regulate toxic emissions to ensure your safety at all times.
By complying with the Environmental Protection Agency and California Air Resources Board's regulations, this portable generator produces far lower amounts of toxic fumes and particles, making it a safe and trustworthy option.
Fully Loaded Power Panel
Built for maximum compatibility and versatility, the P08003 features several outlets that cater to different uses whether you're on the job site or dealing with a power outage.
By directly plugging the unit into your home's breaker box, you can use the L14-30R receptacle on the power panel to power your entire home.
Additionally, the electric and remote start features allow you to start working and generating power right away. Additionally, the unit has a recoil mechanism you can use if the battery runs out.
Circuit breakers are integrated into the device to stop overloads from damaging it and immediately shut the engine off.
Firman Gas Generator Performance Series Overview Video