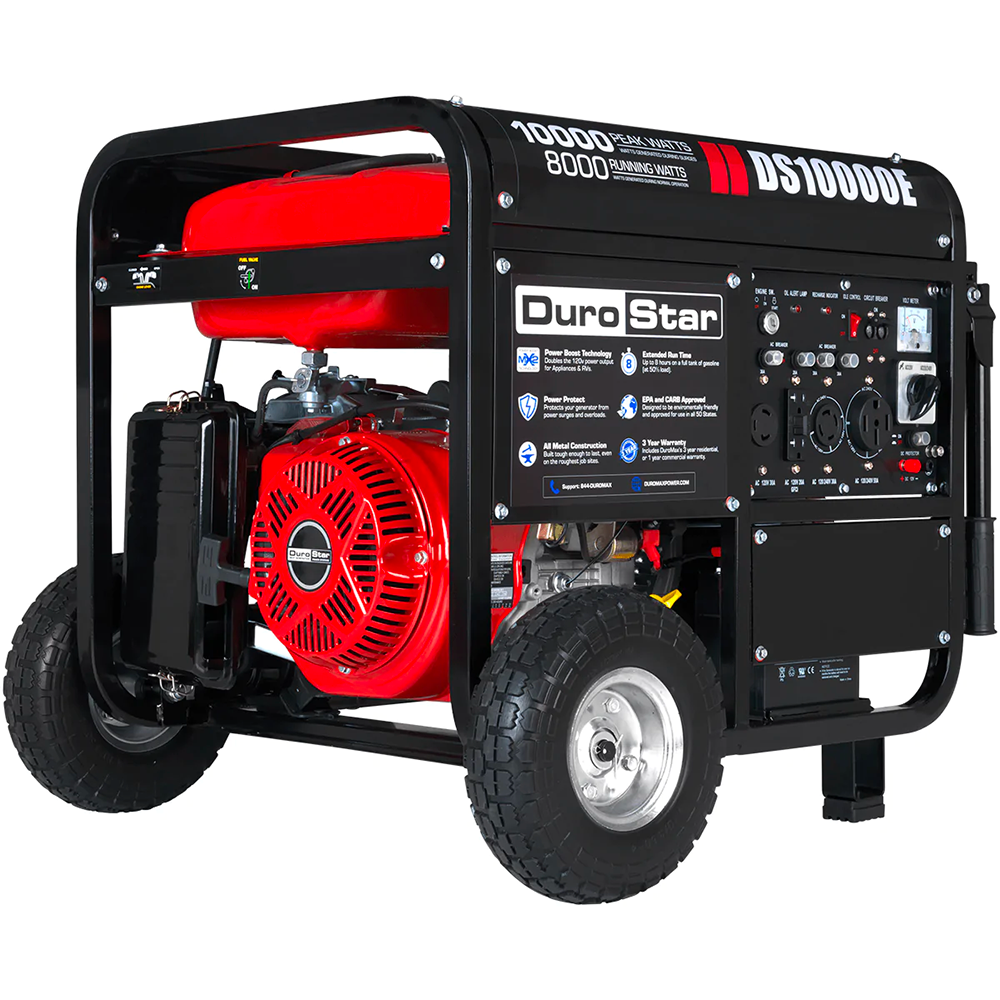 DuroStar DS10000E - 10,000 Watt Gas Portable Generator
Save

Liquid error (snippets/product-badge line 32): Computation results in '-Infinity'

%
No matter where you're headed, the DuroStar DS10000E can be your wingman. Whether you're on a mission or enjoying the breeze on a camping trip, this 10,000-watt unit provides robust capabilities, reliable performance, and convenient use.
To accommodate your every need, the DS10000E can last for up to a full day, peaking at 22 hours on a full tank with low use.
Through efficient air digestion, 100% copper windings, and 439cc of headroom, this unit can push out a staggering 8,000 watts of running power, allowing you to keep your high-amperage power tools and small and large appliances running optimally.
Providing safety and convenience, this portable generator is equipped with a fully featured power panel that includes a circuit breaker, volt meter, and multiple outlets for maximum compatibility.
Key DuroStar DS10000E Features:
MX2 Power Boost:

With the push of a button, the DuroStar DS10000E can double the voltage and make quick work of heavy loads and handle multiple jobs.
Robust DuroStar Core: Storm through your tasks thanks to a 439cc engine coupled with efficient thermal dynamics guaranteeing an extended lifetime.
10+ Hours of Runtime:

Running on only 8 gallons of fuel, the 10,000-watt portable generator can outrun your tasks, sustaining up to 10 hours of continuous use at 50% load.
Resistance and Durability:

Equipped with full metal protection, this gas portable generator guarantees years of use against heavy weather conditions.
EPA and CARB-Approved:

The DuroStar DS10000E features reduced toxic emissions and unhealthy particles, making it ideal for outdoor settings.
Specifications:
Gasoline:
Peak Watts: 10,000

Running Watts: 8,000

Peak Amps @120V: 83.3

Running Amps @120V: 66.7

Peak Amps @240V: 41.7

Running Amps @240V: 33.3
Engine:
Amperage: 66.7A/33.3A

Voltage: AC: 120/240V 60 Hz, DC: 12V

Frequency: 60Hz

Engine Size: 439cc

Engine Type: 4-Cycle Air-Cooled Spark-Ignition

Engine Speed: 3600RPM

Fuel Type: Gasoline

Fuel Tank Capacity (Gasoline): 8.3 Gallons
Product:
Runtime (Gasoline) at 50% Load: 10 Hours

Start Type: Key Switch

Volume Level: 72dB

EPA Certified: Yes

CARB Certified: Yes

CSA Certified: No

Product Dimensions: 29"L x 30" W x 26" H

Product Weight: 228 Lbs
Top-of-the-line Performance
Coupled with efficient thermals, the DuroStar DS10000E provides power and reliability on the go. The unit peaks at 10,000 watts of maximum power, making it uncontested against heavy loads and heavy-duty power tools.
Tucked inside a compact open-frame build, the DuroStar engine runs on 439cc of headroom which allows it to take air in and out efficiently and run at optimal speeds for maximum sustained power.
In addition, 100% copper windings provide improved heat dissipation over conventional builds that use aluminum to save on cost. This translates to better performance as well as a longer lifetime, as copper scatters heat while aluminum quickly overheats, inflicting damage to the unit over time.
Complementing the robust capabilities of the DuroStar DS10000E, the unit also features exclusive DuroStar MX2 Power Boost Technology which allows it to push double the voltage and handle multiple jobs at the same time, making it perfect for job sites where different tools can be used in conjunction.
Consistent Runtime
Packing an 8.3-gallon fuel capacity, the DuroStar DS10000E will make sure you're getting the most value out of your time, peaking at a remarkable 22 hours at low load.
Whether you're on a job site or appreciating nature off-the-grid, the 10,000-watt portable generator can handle multiple jobs, including charging external batteries and powering heavy-duty power tools.
Also featuring idle control, the DS10000E automatically lowers engine speeds to save on fuel and money and allow it to run for extended periods of time.
Eco-conscious Design
Compensating for the years of heavy use, DuroStar generators are both EPA and CARB-approved, meaning they feature controlled toxic emissions such as carbon monoxide and other unhealthy particles. This makes the DuroStar DS10000E the ideal solution for outdoor scenarios.
This unit conforms to strict environmental guidelines from the Environmental Protection Agency and California Air Resources Board which ensure the generator is healthy and safe to use even when in close proximity to provide a worry-free experience.
Years of Longevity
To provide the most value for your investment, the DuroStar DS10000E is protected by full metal construction to resist severe weather conditions and years of accumulated damage.
The 10,000-watt unit is also reinforced by heavy-duty frames forming the outer layer of protection and gluing the build together and leaving no cracks.
Besides the rugged build, the DS10000E is equipped with solid-fill tires that will never run flat while providing an easier time traversing tough terrain.
Additionally, it features foldable handles to facilitate moving the unit around which makes it perfect for festivals, construction sites, and camp sites.
Fully Loaded Power Panel
The 10,000-watt portable generator provides maximum compatibility since the power panel includes a wide range of outlets including a transfer switch-ready L14-30R receptacle, meaning it can be plugged into the breaker box of your home to rejuvenate all your lights and appliances.
The fully featured power panel includes a voltmeter alongside an oil gauge, allowing you to pick up information about current use at a glance. Besides that, a low oil indicator shows when the fuel tank needs to be refilled.
Since safety is a priority, the 10,000-watt portable generator also features a circuit breaker that can turn the engine off in case of overloads or unsafe use. On top of that, an automatic low oil shutoff automatically shuts the unit down when oil levels are insufficient.
We sell a wide range of DuroStar generators - see them all here. Be sure to reach out to our team if you have any questions.